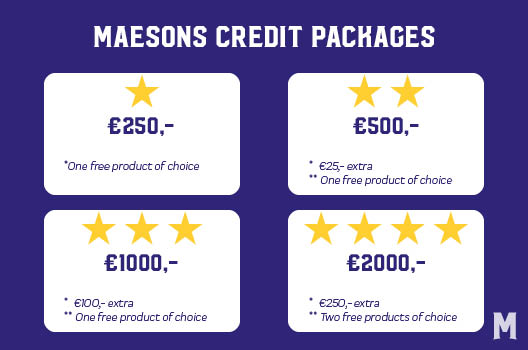 Vanaf nu is het mogelijk om een Credit Package te kopen. Een Credit Package is makkelijk gezegd vooruitbetaald saldo. Wij bieden 4 packages aan, zie hieronder de voordelen:
Je krijgt extra saldo en/of voordelen (zie afbeelding)
Het saldo wordt gekoppeld aan je Business Club Card
Minder facturen, dus minder administratie en daardoor meer overzicht
Belastingtechnisch kan je eenmalig een bedrag indienen in je administratie in plaats van elke maand een ''kleinere'' factuur in te sturen
Geen verassingen in je uitgaven, weet wat je kwijt bent!
Het saldo is te gebruiken voor alle diensten/producten van de Barbershop, Menicures® en Sportsbar.
*Voor de administratieve verwerking en advies verwijzen wij je altijd naar je eigen accountant.
Interesse?
Voor meer informatie of voor het aanschaffen van deze packages kan je contact opnemen met onze floormanager Saskia Jansen (info@maesons.nl of 030 2145335).